Born in Australia (Oct 1943), Laurie's formative musical experience was in free improvisation and experimental music, as well as the influences of Folk, Jazz and Contemporary Classical music.

Soon after arriving in Britain in 1965, Laurie met Cornelius Cardew in London, which was the beginning of a long association. He took part in the landmark Music Now concert (1968) where the music of Terry Riley, La Mont Young and Christian Woolfe was first performed in Britain. This was a big influence and he went on to develop his own solo Live Electronic performances. He also took part in first performances of the composers Frederic Rzewski and John White.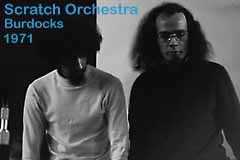 He participated in the Scratch Orchestra from its formation in 1969, in events such as the infamous 'Beethoven Today' and Christian Woolfe's 'Burdocks' at Cecil Sharp House. Following on from this came the formation of People's Liberation Music (1972) with John Tilbury and John Marcangelo (later included Cardew, Vicky Silva, Hugh Shrapnel, Keith Rowe, Dave Smith, etc.), Among its many drummers were Pip Pyle, John Mitchell, Tony Hicks and John Hewitt. Laurie was also a founder member of Progressive Cultural Association formed (1976).

Laurie worked closely with Cornelius Cardew on various collective projects, until his tragic death in 1981, such as with Peoples Liberation Music, Unity Records, Recreation Ground Theatre Company, Progressive Cultural Association and the joint work with Hardial Baines and the CCWC in Canada. As well as both being active in the Musicians Union during this time.
Early days downunder
Between leaving school at 15 and coming to Britain, Laurie worked as a trainee graphic artist on the Sydney Morning Herald, during which time, with school friend pianist Serge Ermoll, he played a regular stint at the legendary El Rocco jazz venue in Sydney.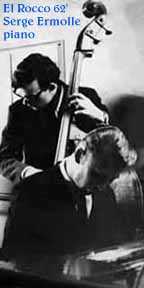 Also with musicians John Poche, Dave Levy, George Neidorf, Fred Payne, Tony Ansell and others.This set the tone for future cross discipline experimental work in improvisation, graphic scores and multi media production.

From those early days he had an insatiable appetite for the latest ideas in modern music, art and technology always seeking out the new. Becoming aware of the work of Mingus, Ornette Coleman, Cecil Taylor, etc. and then Bartok, Stockhausen, Cage, etc. he set out to develop this growing interest in experimental and electronic music, leaving the shores of Australia in 1964 and playing his way to Europe.

Where there was pioneering work going on Laurie would seek it out. On arrival in London he participated in the Little Theatre Club Sessions organised by John Stevens and coming into contact with the music of Evan Parker, Derek Bailey, Pete Lemer, George Khan, etc. His compositions at this time were often semi-graphic scores and conceptual pieces for example the Twelve 30 Second Sketches for Two Double Basses 1 Player (1965). Cues (1968) and the pieces much admired by David Tudor and John Cage Keyboard Music and Extra Material (1967).

Being active in new and experimental music circles was, out of necessity, in tandem with being a working musician/composer in theatre's, clubs etc. where he worked with pianist Pat Smythe, Reg Powell, Henry Lowther, Harry Beckett and Mike Tavis. Laurie played in various West End theatre productions such as Hair (1968), as well as numerous sessions.
continue next column
From within this interesting collaborations developed with Alan Gowan, Jamie Muir, Allan Holdsworth in Sunship and with Greg Bright in Maze, among others.

His experience in experimental and electronic music is evident in some of his recording work with Manfred Mann, Bob Downes, Ray Russell, Alex Harvey and others. At the same time he started composing for film and television with two songs for the feature film, Secrets (1970) performed by Maggie Bell and another by the Cymarons,an early reggea band. There was a TV documentary on Kipling (1971). In 1972 he was commissioned to produce the music for the Norwegian Modern Ballet Company, Studio Oscar, in a ballet by the Choreographer Clive Stuart.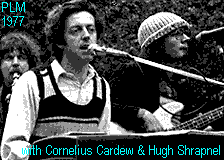 This rich and varied performance experience encompased St Pauls Cathedral, the South Bank to strip clubs! as well as playing in the thick of it on anti-fascist, Irish, workers demonstrations, against war preparations, and so on, acted as a sort of insurance against developing pompous attitudes in music and composing.



In 1976 he was commissioned by Unity Records to compose and produce an LP of a piece celebrating the anniversary of the 1926 British General Strike, John Marcangelo was the composer on the 2nd side, although subsequently its final production was blocked by the Arts Council. Ironically in 1977/8 he composed/produced the music for two animations, Latrec and UBU by Jeff Dunbar, the latter considered a cult movie today, the first films to win any awards for the Arts Council !

Laurie studied harmony with Roy Mailing and Double Bass with Bob Waddington in Australia. He attended a summer school at Durham (1965) with Luciano Berio and very briefly, studied with Jeremy Dale Roberts, but he feels that in the final analysis society, struggle and general life experience are an essential part of any learning process and in fact, the greatest teacher of all. The working relationship with Cardew was both an influence and mutually benificial,

A temporary move out of full time music at the beginning of the 1980s to a film dubbing mixers job at the BBC greatly strengthened Laurie's technical skills. He also continued to compose music for Television and Radio, as well as developing his own music and political songs, between work and keeping himself busy as ACTT/BECTU shop steward and NEC member for around 12/15 years and chairman of the ACTT BBC divisional committee for a time.

He is Artistic Director of Musicnow record label set up with his partner in 1991. The opportunity to return to full time music came after leaving the BBC in early 1995. Plans for a number of CD-Extra projects for the record label. were put in train making good use of his aquired skills.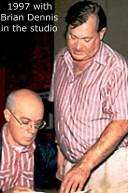 The first fruits of this more concentrated attention were released at the end of 1997 A Little Water Music - music of Brian Dennis with new projects sheduled.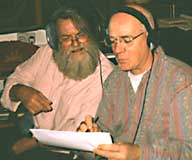 Work on his own material is going ahead slowly and involved the enjoyable experience of recording with Robert Wyatt at the end of 2000. There is also further information on Laurie's involvement with the Canterbury Scene on their web site, as he worked with several of its members over the years. This biography is augmented with information from an interview by Aymeric Leroy